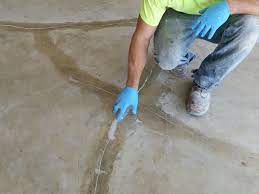 Will Epoxy Floors Crack?
Kitchen floors, garage floors, gymnasium floors… the uses of epoxy are many. But one thing that everyone wants to know is, can epoxy flooring crack? And if it does, how do you repair an epoxy floor that has cracked?
As with most questions of this nature, the answer is: it could and it might. Maybe not at all and perhaps just a little bit around the border. Various reasons cause cracks in resin floors. Some are easy to fix, but others will require you to remove the entire floor.
Read more: Why hire a professional for your commercial painting project?
The following is a list of common causes why epoxy floors crack:
Cracks at intersections

with walls, countertops, and cabinets. This is usually caused by thermal expansion or contraction in the room, so it needs to be repaired immediately otherwise, it will expand and cause a bigger crack.

Plasticizer migration

causes the top layer of epoxy to separate from the base coat or sub-coat, resulting in cracks along edges and pressure points. This is another common problem with epoxy floors but can be avoided entirely by having a high-quality coating system that does not contain plasticizers.

Heavy objects falling on the floor

. This can cause severe cracking in the resin, so it needs to be repaired right away to avoid issues.

An uneven sub-floor

will make your flooring more likely to crack or for cracks that are already there to get worse. The best thing you can do is find a level surface without dips, bumps, or ridges and then install the epoxy flooring.

Exposure.

In high-traffic areas, you may notice that some places will be more susceptible to getting cracks than others. This is because different sections of the floor have been exposed to varying amounts of activity or weight from things being placed on them over some time. Areas with more traffic are more susceptible to this type of damage, so you need to make sure that each section is weighted evenly.
So what can you do to fix a crack in epoxy flooring? Unfortunately, depending on the type of crack it is, you may not be able to do anything. Some cracks can be repaired by injecting epoxy and micro balloons (the same material used in the flooring itself) into them and then painting over them. But if a large section of your floor has cracked, or if there is moisture damage, you need to look at removing and replacing the floor.
Read more: Benefits Of Epoxy Coatings For Concrete Floors
How To Fix Cracked Epoxy Floors?
One of the most popular types of flooring is epoxy, which can come in many different colors and sheens. While it's a great material for kitchens and bathrooms because it's durable and easy to clean, sometimes an epoxy floor can get cracks. If you're not sure how to fix cracked epoxy floors, here are a few helpful steps to take.
Step 1 – Clean the Area and Use an Epoxy Activator
The first step is to clean the area where there are cracks to make sure you can get a good bond. Next, you want to use warm water, vinegar, and a scrub brush to clean the surface thoroughly. If you're having a difficult time cleaning the area, use an epoxy activator to help with the process.
Step 2 – Mix and Apply Epoxy Resin
Once you've made sure that the surface is clean and dry, mix some two-part epoxy resin to apply it to the cracks on your floor. If you're not sure about the ratio, it's best to consult with a professional or follow the instructions on the epoxy container.
Step 3 – Apply Epoxy Coating over Cracks
Once you've applied the resin mix, let it dry for at least 12 hours so that you can apply an epoxy coating over your cracks. It's important to remember that once you've applied epoxy resin, you need to wait at least another 12 hours for it to be completely dry. If you walk on the area when there's still moisture in the mix, it could lead to problems when you apply the coating.
Step 4 – Apply Epoxy Coating
After letting your resin-filled cracks sit for a minimum of 12 hours, you can apply a coating. It's important to let this dry for another 24 hours before using the area again.
Step 5 – Wait a Minimum of 24 Hours
It's essential to give your epoxy resin and coating ample time to dry completely. This way, they will have plenty of time to bond and stay together. Then, after all of the epoxy resin has dried, you can use your floor normally without worrying about more cracks or breaks.
Your cracked epoxy floors should look better than ever if you follow these helpful steps! If you have any other questions about fixing cracked epoxy floors, it's best to consult with a professional. Our experts at Concrete Your Way can help you. Call us!