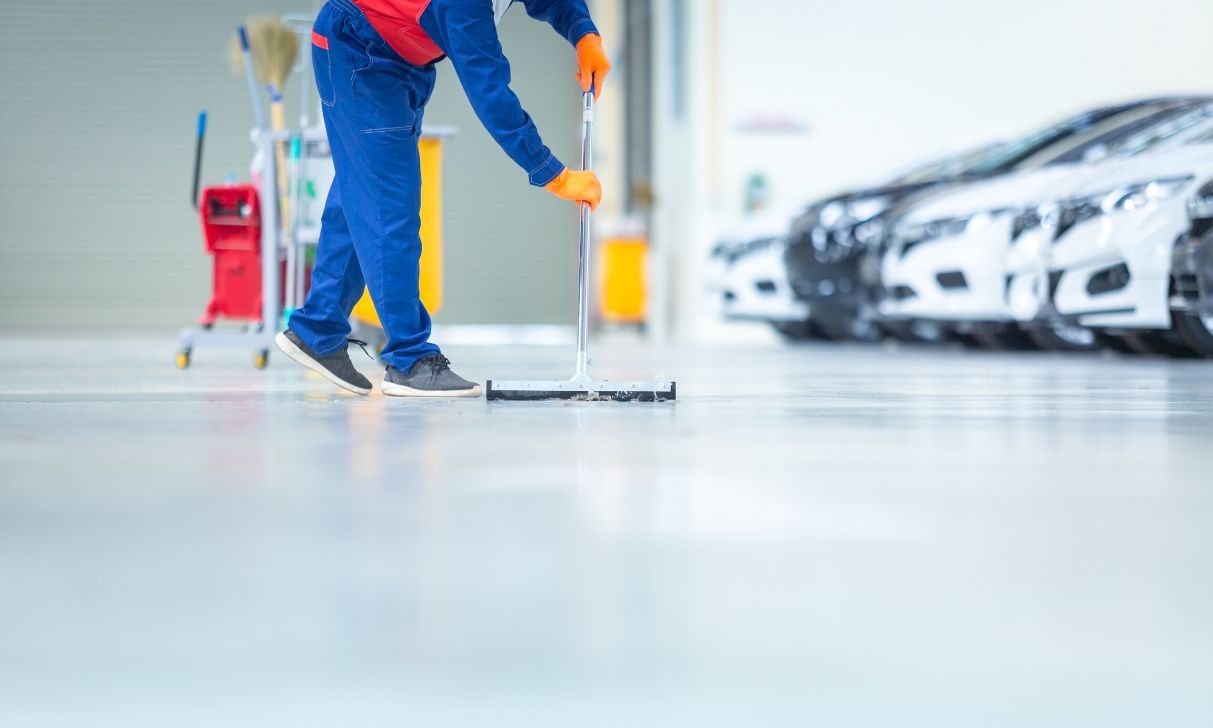 How Do You Maintain An Epoxy Floor?
Epoxy flooring, in all its various forms, is becoming increasingly popular in residential and industrial settings. The wide range of colors available allows them to fit in with nearly any environment or color scheme. They are also highly durable and can be used anywhere that durability is required while still allowing the ability to maintain the finished appearance of the floor quickly.
Here are some tips for performing proper maintenance on an epoxy floor. This will include daily, weekly, and monthly tips and important information about tools that you may want to use to help make your job easier.
Daily Maintenance:       
When people think of upkeep, they often think of what they need to do every day or week. These are things like cleaning, sweeping, mopping, etc.
Daily maintenance of an epoxy floor involves keeping it clean and dry.   Make sure that you have no standing water or residue on the sticky or tacky floor. This may create unwanted gels, which can be challenging to remove. Make sure that your cleaning equipment is thoroughly rinsed out after each use so that there are no contaminants being left behind on the floor, especially if you are using something with ammonia or any other caustic chemicals.
Daily maintenance also involves checking the floor for chips and scratches. If they do not get fixed right away, they will start to get bigger, and eventually, they can be a real problem. Also, if there are chips or scratches, the epoxy floor will need to be polished again before you can begin applying a new layer of finish.
Weekly Maintenance:       
It is important not to skip over any part of the maintenance process on your epoxy floor. If you do, there is a very good chance that you will end up with an unfinished-looking floor and possibly even have to strip the whole thing down and start over completely.
If your epoxy floor is in a warehouse setting, as most are, then you should be sweeping up any dirt or debris on the floor once per week. In addition, if you are using any chemicals or degreasers on the floor, make sure that they are completely cleaned up each week. This will ensure that these chemicals do not mix with dirt to create unwanted gels.
Daily mopping is another part of weekly maintenance. You should always have a bucket, mop, and cleaning solution available in your areas. Regular mopping will help ensure that your epoxy floor does not become dirty and is always ready to be shined up quickly without much redeposit of the dirt or grime that may have been removed.
Monthly Maintenance:       
The most important monthly maintenance is polishing. Polishing will help keep your epoxy floor looking shiny and new for years to come. If you skip polishing, it can lead to the surface becoming dull and dirty. This is especially important depending on what materials are being moved around or stored directly on top of your epoxy floor.
Cleaning should also be done every month, if not more often. You should always try to keep the floor as clean as possible, so spills, dirt, grime, etc. are not allowed to set in and potentially become permanent.   Make sure that you have all of your equipment rinsed before leaving the space for another workday so that there are no contaminants left on the floor when you return.
Tools & Other Considerations:        
There are also a few tools and other items that can help you best maintain your epoxy floor. These will be particularly valuable if you have been ignoring the process for some time or have had problems getting everything looking as good as it should. You may already have these items on hand, so there is no need to go out and purchase anything new.
The first tool is a floor sander. This helps speed up removing any irregularities on your epoxy floor so that it can be polished more easily. It enables you to get rid of any gels or dirt without doing too much manual labor.
Another is a floor grinder. This works like a floor sander, but it can take off much more material and includes water to help keep the dust down and make your work easier.
Next are wall shields for any electrical cords or outlets in the areas where you will be working. This keeps them from getting too much damage from the floor sander or grinder and keeps them from potentially harming you.
Read more:
Epoxy Floor Maintenance
Keeping your epoxy floor maintained can help extend its life and keep it looking new for years to come. Without these steps, your epoxy floor could begin to look dull and dirty over time, which means you would have to completely remove all of the layers you had applied and start over again. You can prevent this by simply keeping up with the maintenance process so that your floor looks perfect every day.
If you can't do it yourself, let our experts at Concrete Your Way do the job. Call us today!