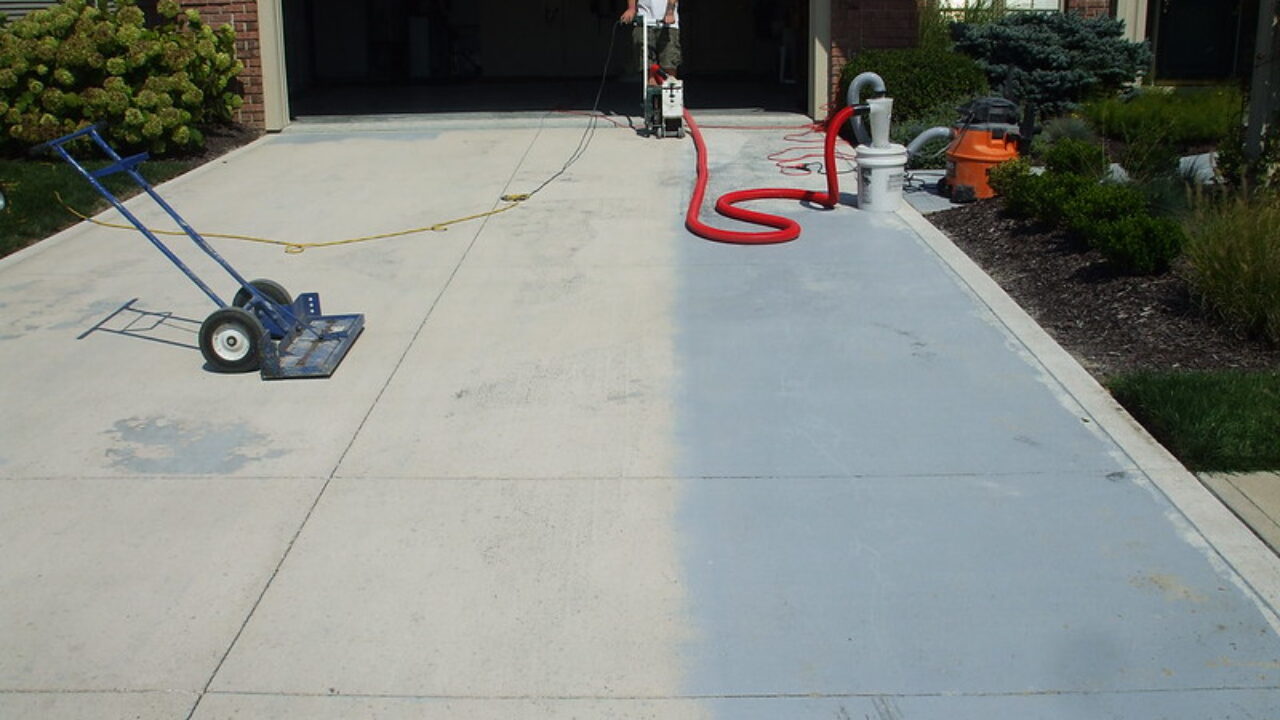 How Long Does Resurfaced Concrete Last?
It is important to note that the life expectancy of resurfaced concrete can vary depending on the specific application. For example, a parking lot will typically have a longer life expectancy than a residential driveway. In most applications, resurfaced concrete should last 10-15 years. However, it is always best to consult with a professional before making any decisions about resurfacing.
Read more: Will Epoxy Floors Crack?
If you are considering resurfacing your concrete, be sure to consider all of these factors that can affect its life expectancy. By understanding these factors, you can make an informed decision about whether or not resurfacing is right for you and how you can protect your investment.
Type Of Material Used For The Surfacing
The most common materials used for resurfacing concrete are asphalt and concrete itself. Asphalt is a bit more flexible than concrete and can better withstand the stress of weathering, so it typically has a longer lifespan. However, asphalt can also be more susceptible to wear and tear from traffic, so its life expectancy may vary depending on the amount of traffic the surface receives.
Concrete is a more durable material than asphalt, but it is also less flexible. This can make it more prone to cracking and chipping in cold weather conditions. Concrete surfacing is also more likely to show wear and tear from traffic over time.
Condition Of The Underlying Concrete
The condition of the underlying concrete is also a key factor in determining the life expectancy of resurfaced concrete. If the underlying concrete is in good condition, with no major cracks or other damage, the resurfaced surface should last for several years. However, if the underlying concrete is in poor condition, the resurfaced area may only last for a year or two before showing signs of wear and tear.
Climate conditions can also play a role in the life expectancy of resurfaced concrete. If the surface is installed in a climate with extreme temperatures or high precipitation levels, it may not last as long as a surface installed in a milder climate. Surfaces located in areas with high humidity or frequent rainfall will require a more durable sealer than those located in drier climates. In general, the more severe the climate conditions, the higher the cost of maintaining a resurfaced concrete surface.
Quality Of The Surface Preparation
The quality of the surface preparation is critical for ensuring a long-lasting finish. All cracks and other imperfections must be repaired before the sealer is applied. If the surface is not properly prepared, the sealer will not adhere to the concrete and eventually peel or chip off.
The type of sealer used is also important. Some sealers are more durable than others and can withstand harsh weather conditions. It is important to choose a sealer specifically designed for concrete surfaces that will provide the best protection against weathering and fading.
Read more: How Do You Maintain An Epoxy Floor?
How Does Resurfacing Concrete Work?
Concrete is a common building material that is used for a variety of purposes. It is made from cement, water, and aggregate, and it can be used to create everything from sidewalks to bridges. Concrete is strong and durable, but it can also be susceptible to damage. Over time, it can crack and crumble, making it difficult to walk on or drive on. Concrete can also become stained and faded, decreasing its aesthetic appeal.
Resurfacing concrete is a process that can be used to renew old or damaged concrete. The process involves removing the old concrete and replacing it with fresh concrete. This can be done in several ways, including using a grinding machine, shot blasting, or scarifying. Resurfacing can also be used to improve the appearance of concrete, and it is a popular option for repairing driveways, sidewalks, and patios.
There are many reasons why someone might choose to resurface their concrete. One of the most common reasons is that the concrete has become damaged over time. Cracks, chips, and other damage can make the concrete difficult to use and can also lead to safety hazards. Concrete can also become stained and faded over time, making it look unsightly. Resurfacing can help to improve the appearance of the concrete and make it look new again.
Another reason someone might choose to resurface their concrete is that it is old or outdated. Concrete can last for many years, but it may not always match the style of a home or building. Resurfacing can help update the look of the concrete and make it more in line with the rest of the structure.
Finally, resurfacing concrete can be a useful way to repair the damage. If the concrete is severely damaged, fixing it may not be possible without resurfacing it. Resurfacing can help to fill in cracks and chips and can also help to make the concrete stronger and more durable.
If you're planning to have your concrete resurfaced, it's important to choose a qualified concrete resurface contractor with a good reputation for quality work. So call us at Concrete Your Way today!