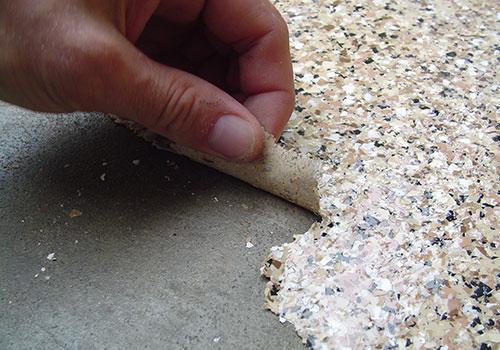 Why Is My Epoxy Floor Peeling?
Tile and vinyl flooring are popular choices for homeowners, but they can be expensive and require a lot of care. Epoxy flooring is a great alternative that's becoming more and more popular. It's affordable, easy to maintain, and can be customized to match any décor. But what happens if your epoxy floor starts peeling?
Epoxy floors are chemically bonded with several coats of epoxy paint, which provides a waterproof, resistant to abrasion, slip-resistant surface that can be colored in various ways to create the look you want. However, this chemical bond can fail over time, and the coatings can begin to peel away.
Read more: Benefits Of Epoxy Coatings For Concrete Floors
This problem is quite common, especially in older homes or those subjected to a lot of wear and tear.If you've recently discovered that your epoxy flooring has peeled, there are a few possibilities of what could have caused the issue:
Reason #1: Weak Adhesion:  
Epoxy is a two-part system that consists of a hardener and an adhesive. Although the epoxy may have been mixed to specified ratios, this does not mean it was applied correctly. If there wasn't enough adhesive used for all of the hardeners, or if the ratio was off, your floor would fail. The entire surface of the epoxy needs to be covered with adhesive, without any bare spots. This includes between tiles.
Reason #2: Incorrect Cleaning Procedures:  
You must follow your manufacturer's cleaning guidelines carefully. If you don't, it can cause issues with adhesion and premature epoxy failure. In particular, you must ensure that the surface is free of dirt and contaminants before the adhesive hardens. You also shouldn't use an acid-based cleaner of any kind.
Reason #3: Uneven Floors:  
Incorrect installation can cause your floor to end up with uneven seams, resulting in chipping and peeling. The tiles must be accurately placed next to each other, with a consistent gap between them.
Reason #4: Not Enough Coverage:  
Epoxy is a very thin product that should only provide a protective layer of no more than 3mm thick. If your floor was laid over another material, such as an existing tile or vinyl floor, the thickness would depend on what was under it. If there isn't enough epoxy to go around, then your floor will eventually begin to peel and chip as you walk over those areas.
Reason #5: Temperature Extremes:  
Epoxy is very sensitive to temperature changes. The adhesive hardens quite rapidly when it comes into contact with the hardener, and with extreme heat or cold, you might find that parts of your floor become loose and lift. This is especially true with high humidity levels – this causes the above-floor material to expand and cause issues at the seams.
Reason #6: Poor Installation:  
If your epoxy floor is not installed correctly, this will cause adhesion issues and lead to peeling and/or chipping. You must ensure that the surface is free of dirt and contaminants, then apply a consistent amount of adhesive as specified by your manufacturer. Make sure you use enough adhesive across the entire surface to avoid bare spots or air bubbles.
Most epoxy flooring issues can be easily prevented by following the manufacturer's instructions and using a licensed installer. If this is not possible, you will need to remove and replace it with a different type of floor.
Read more: Why hire a professional for your commercial painting project?
What Should I Do If My Epoxy Floor Is Peeling?
When an epoxy floor is not properly maintained or starts to show signs of damage, you'll need to consider whether it's worth the cost to repair the existing floors. Not everyone can afford a new floor, and you likely want to keep as much material as possible, so knowing how to fix your peeling epoxy floor is important.
If you've got small peeling areas, less than 10-square feet (1 square meter), you can repair them with a standard epoxy floor paint kit. This type of repair requires little money, time, and skill; it also works to patch cracks or scratches.
There are also two types of paint kits available for repairing peeling floors: fast-drying and slow-drying. Fast-drying kits require less time between coats and take only half the time to dry compared to slow-drying kits. The downside is that fast-drying paint won't adhere as well, so it's important not to put too many coats on top of one another, or you may damage your floor's surface. You should also avoid walking on your floors for at least 24 hours after applying the first coat of fast-drying paint. Slow-drying epoxy paint typically takes about three days to dry completely, so you'll want to keep people and pets off the floors for at least this long and avoid dragging furniture across them.
You could do the work yourself, but if you're not experienced at laying down epoxy, it's best to call in a contractor who's done this kind of work before. If you are in Toronto & GTA, you can count on our experts at Concrete Your Way for professional epoxy floor services. Call us!