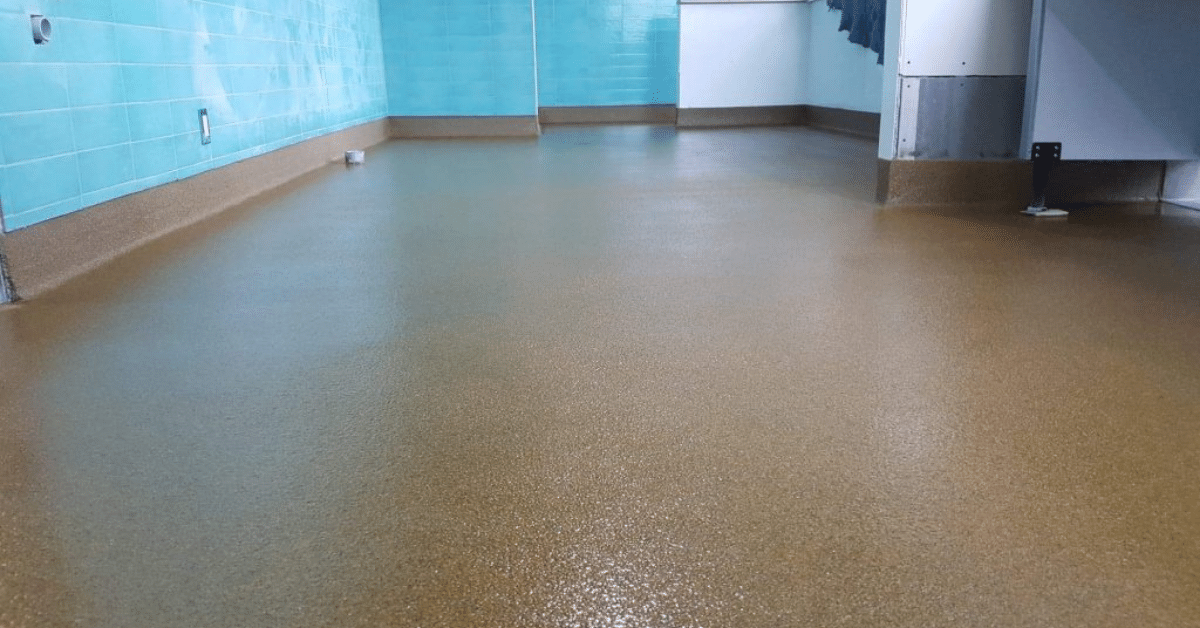 Pros and Cons of Epoxy Floors In Your Home
Epoxy floors are resistant concrete floors made of epoxy resin that add extra protection to industrial and commercial properties alike. With a two-part coating, epoxy floors turn out to be extremely thick, durable and resistant. 
While epoxy floors are commonly seen in public spaces such as schools, hospitals, malls, galleries, parking lots, offices and showrooms, many people wish to install epoxy floors in their homes. This blog aims to showcase the pros and cons of installing epoxy floors to residential areas.
Pros of Epoxy Floors
The benefits of epoxy flooring are as follows:
1. Epoxy Floors are Very Durable
Epoxy flooring coats can last for a long time, as long as homeowners are maintaining their floors well. Thanks to its thick and resistant components, epoxy floors show endurance to wear and tear, corrosion, cracks, chips or peels.
Especially inside a house or a garage, where traffic of people is not as intense as it is in public areas, homeowners can rest assured that their epoxy floors will remain durable for a long time.
2. Epoxy Floors Are Affordable
Without the need for a separate floor system, epoxy floors require only a simple installation on top of the concrete. Consequently, this type of flooring has a cheaper price on the market and is more affordable.
3. Epoxy Floors Can Be Easily Customized
Homeowners are able to opt the style of epoxy flooring they wish to have in their houses, choosing from a variety of designs, colours and patterns. There are endless material options out there that won't easily wear away after installation.
4. Epoxy Floors Are Easy to Maintain
Not much is needed to maintain epoxy floors clean. All homeowners need is to vacuum the floor and mix a solution of warm water with a gentle cleaner product – while vacuuming already does the cleaning trick pretty well, mopping your epoxy floor correctly will give it extra shine.
5. Epoxy Floors Are Resistant
Homeowners may find that epoxy floors are resistant to debris, certain chemicals, wear and tear and heavy machinery, aside from being waterproof. The indoors of a home do not have as much movement as a hospital, a mall or a school – which contributes for the resistance of this type of flooring.
6. Epoxy Floors Are Safe
If homeowners have little children running around the house, they can rest assured that epoxy floors won't cause any harm – this type of concrete flooring is safe due to its resistance to slip and moisture. There will be no risk of anyone accidentally skidding and falling on the ground.
Also Read:
Cons of Epoxy Floors
Installing epoxy floors to residential buildings also has its downsides. Here are some epoxy floor problems homeowners must be aware of:
1. Epoxy Floors Have a Lengthy Installation Process
To install epoxy floors, the process has to be throughout and follow a stric sequence of steps. The floor preparation takes a lot of time and any level of moisture must be controlled – humidity can negatively affect the mixture of epoxy resin. If homeowners do not have proper care during this process, the epoxy floor can crack or peel easily.
2. Epoxy Floors Take Long to Cure
The curing process occurs for a few days after installation, and can stretch for a longer time than the installation process itself. After installing epoxy floors, homeowners must wait  afew days for their floor to cure and show better resistance and finish results.
3. Epoxy Floors May be Slippery
Sometimes, epoxy floors can cause homeowners to slip. However, this scenario only occurs if the surface of the flooring is wet or oily and not properly cleaned. 
4. Epoxy Floors Are Sensitive to UV Rays
If homeowners have a lot of windows for the sake of natural lighting and enjoy some Sun, it is important to know that an epoxy floor can easily show signs of damage thanks to strong sunrays. UV radiation can be very harmful for this type of flooring.
5. Epoxy Floors Are Fragile
Yes, at first, epoxy floors are very resistant. However, with time, this flooring can show significant signs of wear and tear. In the long run, epoxy floors turn out to be quite fragile to grease, moisture, sun rays or extreme temperature changes.
6. Epoxy Floors Need Constant Replacement
The lifespan of epoxy floorings can be long, however – homeowners must replace their epoxy floors once every year or year and a half. A constant maintenance definitely helps in the replacement process, however, replacing epoxy floors is still necessary.
Contact Concrete Your Way to Install Epoxy Floors in Your Home Today
If homeowners wish to have epoxy floors installed in their homes, it all boils down to their own preferences in the end. Epoxy floors do not have an easy installation process and show signs of damage in the long run; however, this flooring type of concrete offers a simple maintenance routine and a great variety of designs.
If you wish to go forward with epoxy floors in your home, do not hesitate to call Concrete Your Way at (416) 626-3332 and our team of professionals will be happy to assist you with any questions you have and with all of your epoxy installation needs.
FAQ
What are the disadvantages of epoxy flooring?
Epoxy floors are fragile in the long run. This type of flooring can suffer with excessive wear and tear, strong UV rays, harmful chemicals or overall damage.
How long do epoxy floors last?
Epoxy floors must be replaced every year or every one and a half years.
Does epoxy flooring scratch easily?
Overall, epoxy floors are very resistant, however, in the long run, it is possible for scratches and chips to eventually show.
Is epoxy flooring hard to maintain?
Epoxy flooring is very easy and straightforward to maintain. Homeowners only need to use vacuum cleaners and a gentle solution of water and cleaner for mopping.