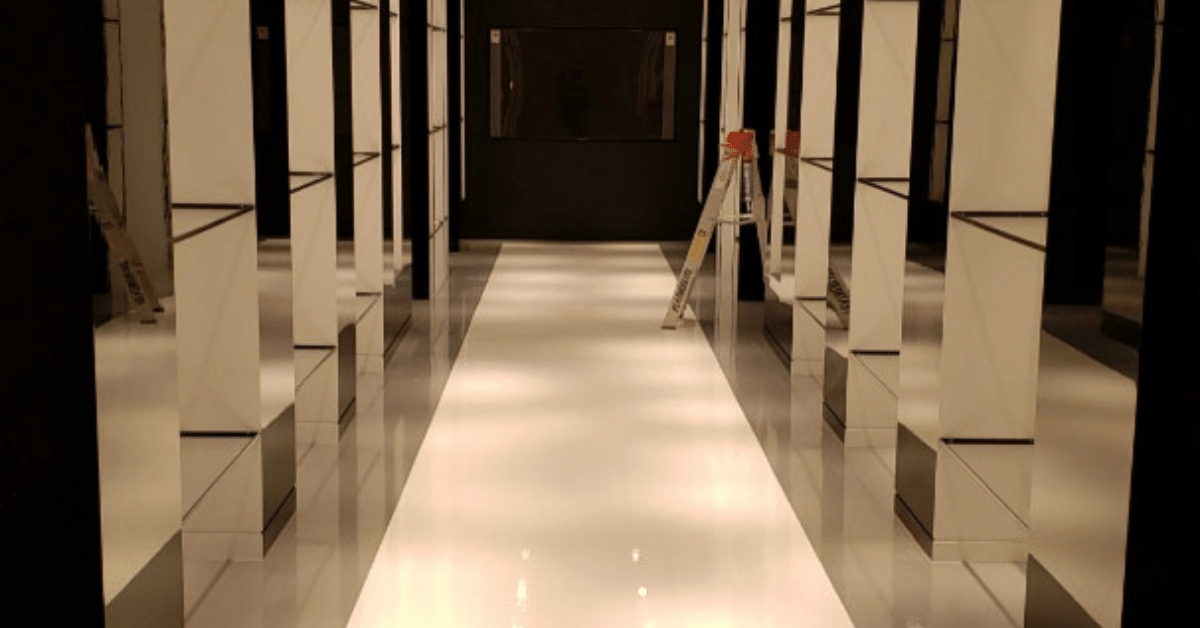 Epoxy vs Urethane Concrete Floors
If you have a business and wonder what type of flooring to use in your commercial property, you may have noticed concrete floors are a highly trusted option among business owners and commercial property managers. However, there are different types of concrete floorings out there and this blog aims to showcase the pros and cons of epoxy concrete floors and urethane concrete floors.
What's the Difference Between Epoxy and Urethane Concrete Floors? 
The ultimate, final decision is up to the business owner – if you think urethane will suit your needs more than an epoxy floor, or vice-versa, it is important that you first learn about both floorings and understand the advantages and disadvantages of each one.
What Are Epoxy Floors?
Epoxy floors are a type of flooring that contains epoxy resin with a hardening effect, making epoxy floors quite ticker, resistant and durable. While most concrete floorings contain only one component, epoxy floors have a two-part coating, which influences on the resistant aspect of this type of flooring.
A great way of adding colour to an industrial flooring is to invest in epoxy floor. They make every floor look shiny and brand-new, and that is why they are commonly seen in malls, hospitals, schools, showrooms and galleries.
What Are Urethane Floors?
Urethane floorings are another type of concrete flooring that provide commercial properties with more resistance to abrasion, slips and harmful chemicals. With unlimited design options, urethane floors add more colour to a commercial space.
This concrete flooring is a great option for labs and industrial plants due to its efficient chemical resistance.
The Differences Between Epoxy and Urethane Floorings
There are significant differences when it comes to choosing between epoxy floors and urethane floors – after all, both floorings serve different purposes and have distinct advantages and disadvantages.
While both epoxy and urethane concrete floors provide commercial and industrial buildings with protection against corrosion, damages or wear and tear, there are particular aspects to each type of concrete flooring property managers should look into and consider:
The Advantages of Epoxy Floors
The pros of investing in epoxy floors are related to this flooring's high-strength and resistance to slip and moisture. It also blends well with concrete substrates. With a general cheap price, epoxy floors are protected by a water-based finish, which gives this flooring a strong and thick build.
Epoxy floors come in a variety of textures and colours, and are very easy to maintain.
The Disadvantages of Epoxy Floors
Epoxy concrete floors require a long installation time and replacement every year. This type of flooring is very thin, sensitive to constant damage and strong UV rays, aside from not being very resistant to grease, moisture or extreme changes in temperature.
Epoxy floors become less hygienic and more fragile over time due to wear and tear. This type of flooring may strong, however, it is not permanent – it is true that epoxy floors are resistant to heavy impacts, but damage and chips are still prone to occur. Besides, using the wrong chemicals on the surface of epoxy floors brings bad results over time.
Still, the biggest downside of epoxy flooring is present in its installation process. The overall mixture of epoxy is very throughout because, if epoxy floors do not properly adhere to the surfaces, it creates coating failure.
The Advantages of Urethane Floors
Urethane floors last much longer and are more colour-retentive. With incredible resistance to abrasions, urethane floors last for decades, are very flexible and protected against strong UV rays.
This type of flooring stands well against extreme temperatures, thermal shocks, moisture, bacterial growth and harmful chemicals – aside from being waterproof as well. With urethane floors, industrial or commercial property owners don't have to worry about heavy machinery crossing this flooring or about slip-and-fall accidents – those won't occur, thanks to the water-resistance that urethane floors provide.
The Disadvantages of Urethane Floors
Urethane floors provide a very basic finish that takes a lot of extra time to reach perfection. While it may not take as long as epoxy floors do, the installation of urethane concrete flooring is extremely sensitive, especially to humidity.
What's Best for Your Property?
When choosing between epoxy flooring or urethane flooring, it all boils down to preferences. Property managers must think about what their industrial or commercial buildings are going to be used for, and define the safest concrete flooring to install. Abrasion, chemicals, clientele traffic, weather – all these factors heavily influence in the choice of flooring.
Usually, many people opt for using both epoxy and urethane floors. While epoxy is meant to build up the floor, urethane is used right after, to seal and protect the concrete.
Contact Concrete Your Way for Your Property's Concrete Floor Installation Today!
Both epoxy and urethane floors serve their purpose of being resistant to a number of contaminants, outside influences and chemicals. With subtle differences, it is up to property owners to decide which type of flooring will best suit the needs of their industrial or commercial buildings.
Concrete Your Way has experience installing a number of epoxy and urethane concrete floors in a variety of textures, designs, colours and finishes. If you wish to install a strong flooring to your industrial or commercial building, give us a call at (416) 626-3332 and rest assured that we will fulfill your concrete flooring needs right away!
FAQ
What are the disadvantages of epoxy flooring?
Epoxy floors are, unfortunately, not very resistant to strong UV rays or weather changes, very harmful chemicals and abraisants. They are more fragile to wear and tear over time, and the installation process takes very long.
Is urethane good for concrete?
Urethane is one of the most compatible materials with concrete. It is a very strong type of flooring that adds a great finish and look to industrial and commercial properties.
Is epoxy harder than urethane?
Although epoxy is a very resistant type of flooring, urethane floors still take the prize for overall resistance. Urethane flooring is harder to endure UV rays, chemicals, abraisaments, chips, wear and tear, traffic or heavy machinery.
Is polyurethane better than epoxy for garage floor?
Garages are prone to receive a lot of UV lights (if they are outdoors) and even more so exposure to chemicals coming from vehicles. For these reasons, polyurethane floors are a favourite choice among property managers.