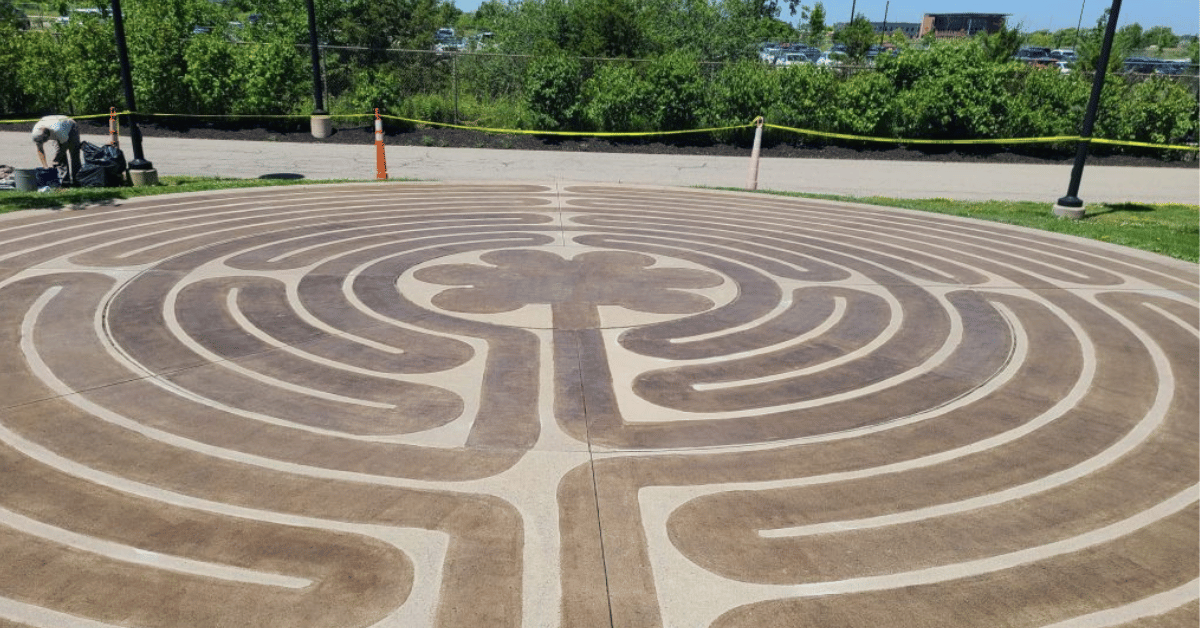 The Benefits Of Using Decorative Concrete For Your Home
Much thought and planning goes into any renovation project, including materials, colours, design, finish, and patterns. In each of these categories, there are myriad options to choose from. One widely underrated option is decorative concrete, which is very versatile and has many advantages compared to other materials. So, in this free guide, we will explore what is decorative concrete and the many benefits of using decorative concrete for your home or business.
What is decorative concrete?
While decorative concrete is a form of concrete, it is far from the plain gray and utilitarian kind of concrete you might be used to. It will allow you to add a different look and style to the inside and outside of your home. So, instead of just being a functional medium, it can be an eye-catching element that can significantly enhance the aesthetics of your home. There is a very wide range of options to choose from in terms of finishes, colours, patterns and more.
It can be used in many different ways, such as flooring in your house, in driveways and sidewalks, on patios and porches, firepits, pools, and garage floors and even for logos and lettering as visual accents.
Benefits of using decorative concrete for your home or business
Resistance to Scratching and Other Damage
One of the most important qualities of flooring, indoors or outdoors, is durability, especially in high foot-traffic areas. Carpet can get worn out, stained or damaged by the claws of pets. Vinyl flooring and even hardwood floors can get scratched and scuffed from everyday wear and tear. Decorative concrete has distinct advantages over these materials: it is very difficult to scratch or chip with regular foot traffic or everyday use, it can withstand heavy weights without any structural problems (like a car), and it lasts much longer than comparable materials. This longevity is not only adding convenience but also saves you money because you will not have to replace it, unlike carpeting or hardwood.
Low and Simple Maintenance
Decorative concrete is very easy to maintain as the concrete itself is sealed with an acrylic or epoxy coating, with many different options to choose from, all of which ensure waterproofing of the floor. Concrete is moisture-proof, so any spilled liquid will not be able to seep into it and cause stains or damage, and it is easy to clean. The same goes for dust and dirt, which can simply be swept and mopped, or, if you wish, you can even invest in a floor cleaning robot that will automatically take care of the cleaning for you. There is a wide range of different patterns, colours and textures to choose from, so you can find an option for your design and colour palette.
An Eco-Friendly Solution
When looking for eco-friendliness, concrete flooring is one of the best options on the market. Most homes already have concrete subflooring to support other flooring materials, such as carpet or laminate flooring. So instead of installing other materials on top of it, the concrete flooring can easily be treated with a stain or decorative pattern and then sealed with an acrylic or epoxy coating. This way, you get a very decorative design element for your home and don't have to worry about buying and installing materials that will wear out over time and cause you more cost when replacing them. So you are saving your wallet and the environment by generating less waste material going to the landfill.
Affordable
Concrete flooring can be economical in more ways than one. Many houses already have concrete subflooring, so there is no need for expensive installations of carpeting or vinyl or hardwood flooring, and because it does not wear out like these other materials, the upkeep is cheap as well. And even if fresh concrete has to be poured in your home or business or in your driveway or garage, it can be done at a fraction of the cost of replacing carpet or hardwood.
Beautiful and Versatile Design
Different types of decorative concrete give you a very wide range of options for colours, stains, patterns and textures and will allow you to fully customize your flooring for any design or look you have in mind. You can use colours and stains to match the rest of your furniture or wall colours, or create patterns. Stamping allows you to mimic the look of stone, brick, cobblestone and more, while you also can add textures such as grooves, engravings and more, giving you full creative freedom and versatility to achieve the look you desire.
Cooling Properties
If you suffer from hot and sweltering summers, then decorative concrete flooring is a great way of keeping your home cool without having to rely on air conditioning. Even when exposed to heat, concrete remains cool to the touch and can keep the temperature in your house lower during summer. And as a side effect, it can also reduce your utility bills in the process. 
Better Air Quality
Concrete flooring also is a great option for people with allergies. If you or a loved one suffer from allergies to dust, pollen or other allergens, the nonporous surface of concrete is an excellent solution as none of the allergens can actually enter the flooring. Instead, you can sweep and mop them away and eliminate them from your home.
Conclusion
Decorative concrete has a lot of advantages over other materials such as stone, carpet, vinyl or hardwood. It is highly resistant to damage, easy to maintain, very eco-friendly, affordable and has a wide range of beautiful and versatile design options that you can use to customize to match your decor and design fully.
ConcreteYourWay is a boutique concrete decor and restoration company that specializes in the coating, staining and polishing concrete surfaces as well as surface preparation, repair and rehabilitation. We have over 10 years of professional experience in different concrete-related applications. Unlike many traditional concrete contractors, ConcreteYourWay tailors each and every solution to the unique requirements of our clients and their projects. Our team can be involved in the planning stages of new construction and or the consultation of existing floors and the work required to retrofit or renovate.
Above all, ConcreteYourWay is a company focused on quality workmanship and customer service, and our goal is your full satisfaction with the finished product. Contact ConcreteYourWay today at (416) 626-3332 to find out how we can help you and schedule a meeting with one of our experienced representatives.