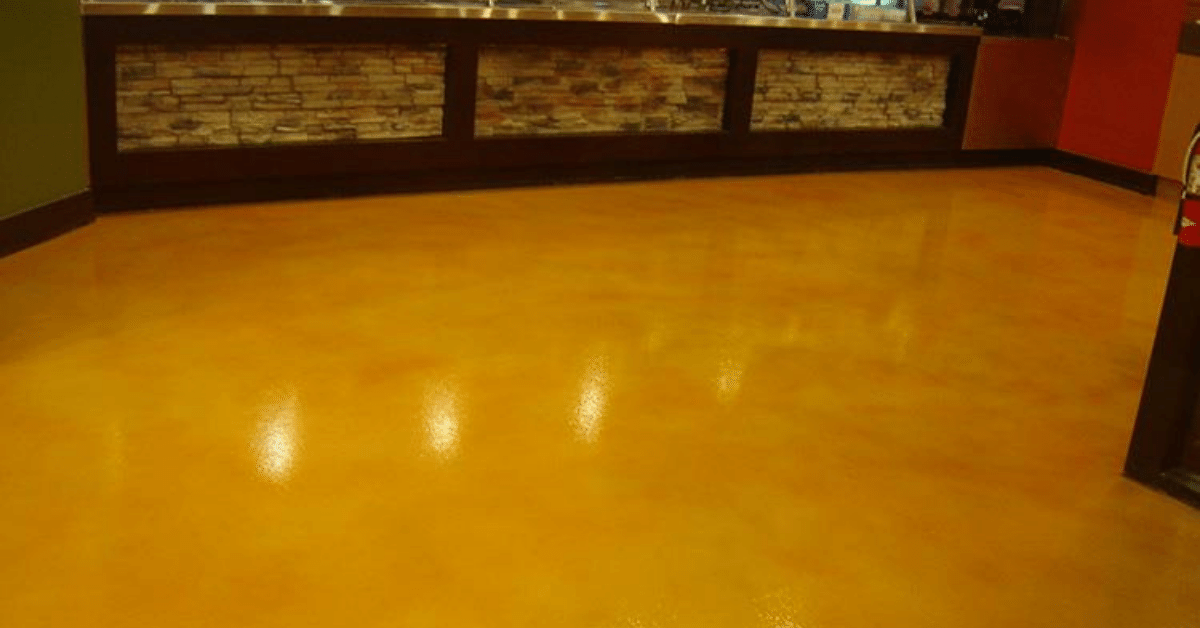 Pros and Cons of Acid Stained Concrete Floors
Concrete floors make up for a great and shiny urban look to someone's home or business. They go well in gray colors, light beige, or dark brown – it all depends on how you think your interior design and space decoration will match the floor you select. In this article, we will go through all the pros and cons of acid-stained concrete floors.
Pros of Acid-Stained Concrete Floors:
Cost-effective
This does not mean it is cheap to concrete your floor. However, it gives you the liberty to add value to your floor. It is cost-effective in the long run since you do not need to put in the extra work of installing tiles or a carpet.
Improved aesthetic
An acid-stained concrete floor comes with different colors and designs that can add some charm and variation to your space. Depending on the type you choose, it can greatly improve the aesthetics of your business or home.
Big variety
And, touching on the point above – there is indeed a big variety of acid-stained concrete floors for you to choose from. When consulting with providers, homeowners can choose their own acid-stained concrete floor that will best match the aesthetic of their place. They can pick any combination of colors they wish, and the overall process to prepare the floor is quick and easy.
Goes well with other floors
Other floor finishings go well when mixed with concrete – perhaps you will have a good result by mixing different floor models or getting carpets that can fit in the design of the concrete floor as well. However, another advantage is that, if you decide later on that a concrete floor is not the best choice, you can completely cover it up!
Design flexibility
Going back to our aesthetic point of view – acid-stained concrete floors are not always the OPAC, gray color that many think about. Acid-stained concrete floors can be translucent and glow in brown colors, or pink tones. More than that, while the concrete is being prepared, different dyes and arts can be created before the floor dries completely. You can use creativity in your favor!
Low-maintenance
Aside from being so durable, acid-stained concrete floors are also easy to care for – that is why they are durable after all! Whatever spills on it, there is nothing that a mop will not clean.
It seems this floor is the perfect option for every decoration. But what are the cons of acid-stained concrete floors, after all?
Also Read: How to Clean Polished Concrete Floors
Cons of Acid-Stained Concrete Floors:
Still shows imperfections
If your floor has any cracking or discoloration, a concrete floor will not be the solution. Therefore, make sure to prepare your floor well before adding the acid-stain – if not, the design can even look unprofessional.
Unpredictable results
One risk homeowners take with acid-stained concrete floors is that it is only possible to see how it looks after the dye dries. The application method can change the final result and, although it is not common, can still happen.
Extra labor
The procedure for installing and perfecting an acid-stained concrete floor requires a lot of extra labor in its preparation. That is because there is a lot of work to remove residues or rinse slabs after the stain is applied. These small steps are essential to make sure the procedure is correct.
Cracks overtime
Aside from not covering previous cracks on the floor, concrete floors can also develop cracks over time because of moisture, settling and temperature changes.
Not good for residential settings
Commercial buildings have better luck with acid-stained concrete floors. In a residential home, residents must be aware of objects that will easily break, children running around, and elders slipping and falling.
Hardness impact
This goes well with the point above – acid-stained concrete floors are better for commercial buildings because of their visual effects. In someone's house, it is not so easy for many people to see the final results, unlike in a public space! And, on top of that, it can be uncomfortable to walk on it for a very long time as well.
These are the pros and cons of installing acid-stained concrete floors on your home or business. Acid-stained concrete floors can bring very good and aesthetically pleasing results to someone's commercial building or house.
In the end, it is the client's decision to proceed with this method, and, either way, we are here to assist you and provide you with the best service for your acid-stained concrete floor. Visit our website and check out our projects!