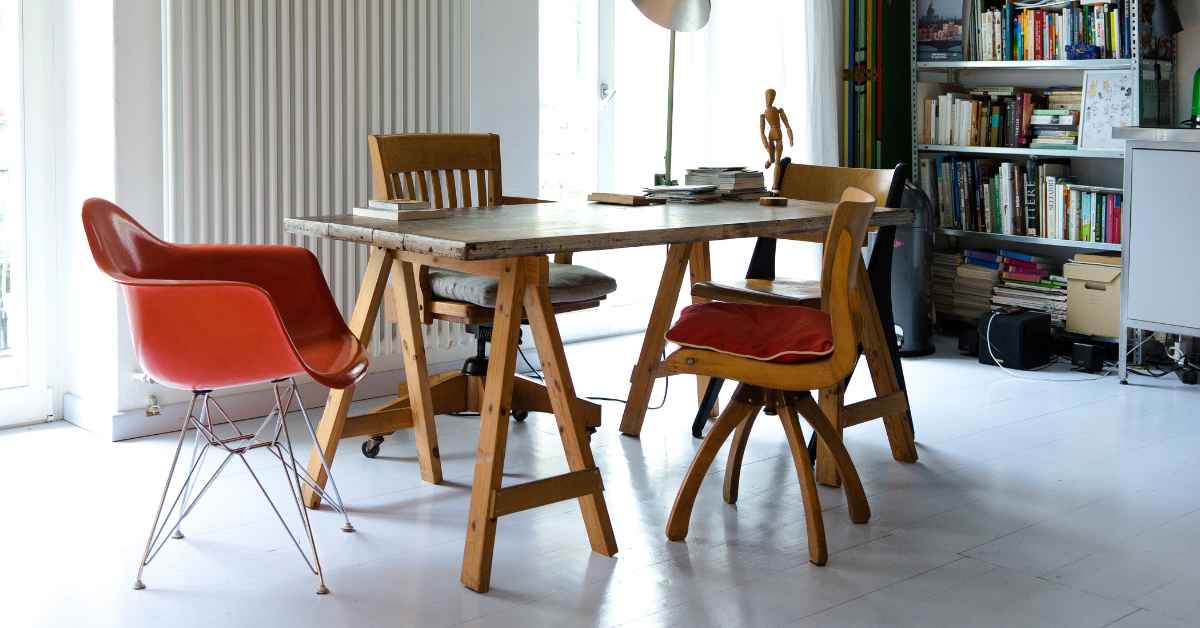 How to Clean Polished Concrete Floors
Concrete floors are a popular style of flooring in commercial buildings, public spaces, parking lots, galleries, or even apartment houses with a more urban interior design. Regardless of where the concrete floor is being used, it will need regular maintenance at some point. 
Polished concrete floors are a beautiful and durable option for many homes and businesses. They are easy to maintain and clean with the right products and methods. In this blog post, we will give you some tips on how to clean your polished concrete floors so they stay looking shiny and new for years to come!
How Can I Maintain My Polished Floors?
One must maintain polished concrete floors with a topical guard product or a sealer. Dust is harmful to the shine of the concrete and should therefore be mopped daily with a microfiber cloth since this material is efficient in removing soil.
Clean mops and water should be used to mop concrete floors with a neutral floor cleaner that will quickly remove dust particles so they don't stick to the concrete. Spills and grime should also be removed immediately; however, it is not advisable to mop the cleaning agent so fast since it needs a little time for its effect to work – but it also cannot stay for long on the surface, or it can stain.
What matters is that routine maintenance occurs on polished floors.
The Basic Procedures for Cleaning Polished Concrete Floors
Polished concrete floors need professional service and maintenance every few years; however, mopping dust daily with clean water and a concrete floor cleaner product is vital to keep the concrete floor in good condition.
Here are some basic measures you can take to keep your polished concrete floors well-maintained:
Remove dust every day

Use a robotic vacuum cleaner

Use the correct mopping solution and microfiber cloth

Avoid bleach, ammonia, or vinegar
How To Minimize Maintenance Costs for Polished Concrete Floors
One can take a few measures to not worry about maintaining the polished concrete floor so much – or even to avoid damage.
Clean the Concrete Floor Everyday
Maintenance is essential; however, it doesn't have to be frequently required if polished concrete floors are cleaned daily. Special robotic vacuums and dust mops remove contaminants from the surface of the concrete and rugs.
Stains and spills should also be cleaned promptly.
Use Felt-style Backing Rugs
Rugs play a big part in the maintenance of polished concrete floors as they minimize the volume of contaminants on the floor; therefore, they also need special cleaning and maintenance. Felt-style backings are a go-to for people who decide to invest in using rugs on their concrete floors, as opposed to rubber rug backings that can damage and dull the polishing. 
However, using rugs is optional – since concrete floors are not slippery, there might be no need to add anything on top.
Don't Wax
Wax is a temporary solution for polishing a concrete floor; however, it eventually builds up and becomes difficult to remove, damaging the concrete floor. Therefore, waxing a concrete floor is not recommended, as wax can turn into a contaminant.
A floor cleaner with water and soap is all that one needs.
Never Tape the Concrete Floor
Maintenance can be very costly. Taping the concrete floor is never advisable, as glue can significantly damage the polishing of a concrete floor. It can produce contaminants that are difficult to clean.
Also Read:
How Often Should you professionally clean Polished Concrete Floors?
Polished concrete floors should be serviced every few years – if the concrete floor is in good condition thanks to frequent maintenance, it can receive servicing every five to six years. However, it is advisable to provide professional inspections every couple of years.
A professional inspection is needed when the concrete floors look different from when they were first installed – if they have a high traffic of vehicles or people, they will need to be revitalized more often.
Professionals deep-clean concrete floors using a specialized floor scrubber and a high-powered buffer. With this constant cleaning and maintenance, concrete floors grow resistant to stains.
Conclusion
With just a little bit of effort, you can keep your polished concrete floors looking their best all year long! Sweep them regularly, spot-clean stains as they happen, and protect them with mats and rugs. With these simple tips, you'll be able to enjoy your beautiful polished concrete floors for years to come.
No matter what your concrete needs are, the team at Concrete Your Way can help. We specialize in both residential and commercial projects, so we've got you covered no matter what type of project you're working on. Contact us today to get started on your next concrete project!
FAQ
How do you clean and shine polished concrete floors?
With the right products and a little elbow grease, you can have your floors looking like new in no time. First, start by sweeping or vacuuming the floor to remove any loose dirt or debris. Then, mix a solution of mild detergent and warm water, and use a mop or sponge to clean the floor. 
How do you get the shine back on polished concrete?
The first step is to dust or vacuum the floor to remove any surface dirt or debris. Then, Wet Mopping the floor with a pH-neutral cleaner will help to remove any remaining dirt or grime. Once the floor is clean, you can begin polishing it with a high-speed floor buffer. 
What is the best way to clean concrete floors?
The best way to clean concrete floors is actually fairly simple: use a mild soap and warm water. This method is gentle enough to preserve the flooring, yet effective enough to remove dirt and grime. For tougher stains, you can use a slightly abrasive cleaner. Just be sure to rinse the floor well afterwards to avoid damaging the surface. With regular care, your concrete floor will stay looking like new for years to come.
Are polished concrete floors hard to keep clean?
Although polished concrete floors do require some upkeep, because they don't need waxing or sealing, they're typically easier to maintain than other kinds of decorative concrete floors.