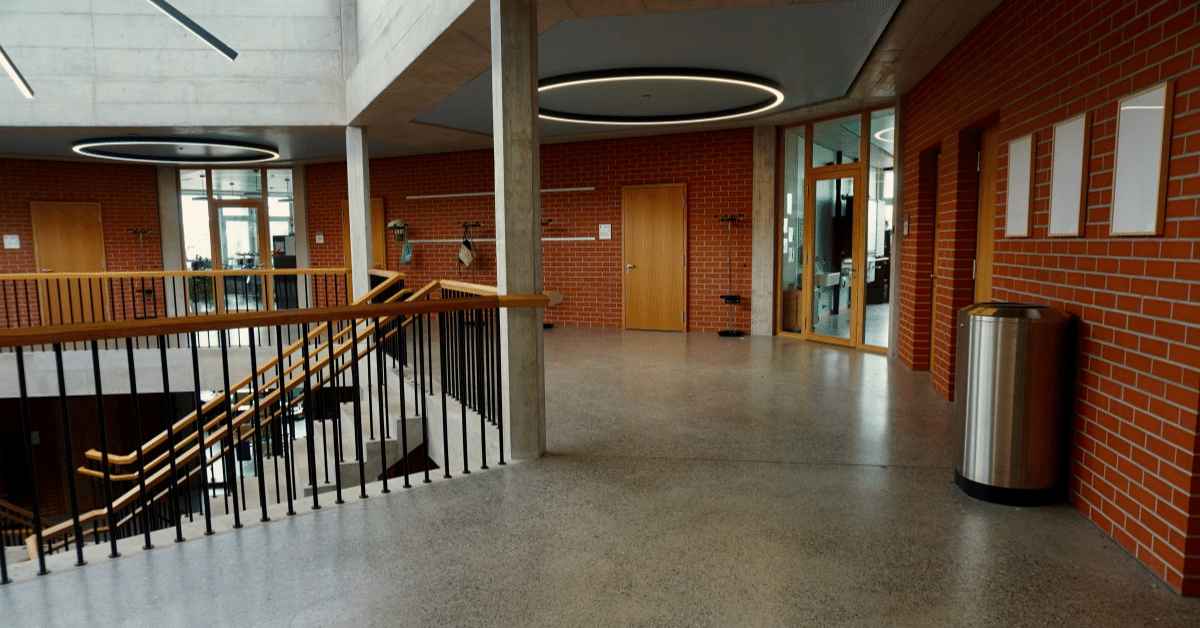 Polished vs Stained Concrete
Concrete is an excellent choice for flooring in virtually any commercial or industrial environment, but it lacks color. Untreated concrete is visually unappealing, and while this is acceptable in some settings, such as warehouses, for more customer- or client-facing areas, people often prefer something more aesthetically pleasing.
Concrete staining and concrete polishing are two prevalent options. Both can be utilized to produce hues, patterns, and novel textures.
Which type of flooring is best for your business? And what is the difference between polished concrete and stained concrete? Let's examine the distinctions.

Key Differences Between Polished Concrete and Stained Concrete
Durability
Durability is one of the most important factors to consider when installing new flooring. Whether you live alone in your home or have constant traffic from children, pets, and guests, you must ensure that your flooring can withstand your lifestyle.
Polished concrete is exceptionally resilient. Due to a more involved installation process, polished concrete is intended to retain its beauty even in the most heavily traveled areas. This explains why polished concrete is so popular in retail stores, restaurants, and even busy homes.
Additionally, stained concrete is very durable. In high-traffic areas, stained concrete is more susceptible to scratches, faded colors, and worn coatings.
While stained concrete can have a long lifespan, additional maintenance is required to keep it looking and performing its best. We will discuss this in greater detail later in this article.
Despite the fact that both types of flooring are extremely durable, polished concrete is superior. The extensive installation process guarantees that polished concrete can withstand wear in even the most heavily traveled rooms.
Lifespan
Many installers of polished concrete will provide a 20-year warranty on their floors. With proper care and maintenance, however, these floors can last a lifetime.
With stained concrete, the durability of the concrete itself may exceed 100 years. However, the floors will need to be sealed or waxed once or twice per year for the stain to last. If floors are not properly maintained or sealed, the stain may begin to fade within a few years or even sooner in heavily trafficked areas.
Both stained and sealed concrete are extremely durable. When properly maintained and cared for, each floor can last a lifetime. However, polished concrete typically has the longer lifespan and requires less maintenance to maintain its beauty.
Also Read: How to Clean Polished Concrete Floors
Cost
A polished concrete floor will cost you about $5 to $8 more than a stained one, on the average. Reason being, finishing the task will necessitate buying new tools. The time and effort required for the installation process is significantly higher.
If you're a business owner looking to install new floors in your commercial space, however, you shouldn't immediately rule out polished concrete just because of the cost. Many business owners report a much greater return on investment with polished concrete.
When it comes to high-traffic areas like warehouses, the initial investment may seem excessive; however, the lower maintenance costs and greater resistance to wear more than make up for it.
However, stained concrete is a great option if you're looking for something less expensive for your home or business.
Stained concrete wins this round due to price differences. It's a lot cheaper than polished concrete, but business owners should compare the two to see which one offers the best return on investment.
Maintenance
Both floors are low-maintenance and simple to clean on a daily basis. A broom, dust mop, or vacuum cleaner made for hard floors should be all you need for daily cleaning. Steam mops and regular wet mops with water and a mild cleaner are equally effective for a thorough cleaning.
However, polished concrete is more low-maintenance in the long run. Concrete pores are sealed off when polished. It means the floor won't get stained or damaged if it gets wet.
To install stained concrete, a coating is brushed onto the surface. This coating may last for years, but it will wear away in certain spots. The result is dullness and a loss of vibrancy, especially in heavily traveled areas.
Whenever this occurs, fresh coatings and protective waxes must be applied. This is tedious work that raises the price of regular upkeep.
There's no telling how long the stain on concrete will last, but rest assured that it's a solid purchase. Stains used in the process of staining a concrete floor go deep into the surface of the concrete, leaving a finish that will not wear away.
If you take your time and do everything right, the results will last for decades. The coating is the only part that needs close monitoring because it can show signs of surface damage. Choose a clear sealer or floor wax to restore the concrete floors in your home.
The upkeep for both is relatively similar on a daily basis, but polished concrete requires much less time and money to keep looking great than stained concrete.
Also Read: Pros and Cons of Acid-stained Concrete Floors
Customization
You can choose from many different colors of stain when you stain concrete. You can even make your own stain, which will give you a floor that is truly unique. Using different colors, you can make beautiful patterns on your new floor.
With polished concrete, you can make a surface that looks very smooth. Polished concrete floors are usually found in industrial areas or even showrooms, but they are now becoming popular in high-end homes as well.
The look of your concrete floors can also be changed. But you will need to use a stain to change the color. This could make your installation cost more, depending on the colors you use and the designs you choose.
In this case, the winner is stained concrete. Concrete that has been polished has a beautiful shine. But your concrete floors won't be truly unique to you until they have a style that is all your own.
Indoor/Outdoor Use
Concrete that has been stained can be used in any room inside. But, as was already said, stained concrete in areas with a lot of foot traffic may wear down over time.
Concrete that has been stained can also be used outside, such as on patios or around pools. But you must use an outdoor stain so that the wood doesn't wear out and fade too quickly.
Polished concrete is a great option for your home or business. In many high-end homes, the foyer, hallways, dining rooms, and living rooms are all made of polished concrete.
Polished concrete can be very slippery, which is not a good thing. This means that you might not want to pour them in rooms like the kitchen or bathroom where water might drip on the floor.
Because highly polished concrete can get so slippery, it's also not a good idea to put it outside where it could get wet. If you want to use polished concrete outside, you should use a floor with a low sheen or a matte finish.
Because polished concrete floors can be slippery, stained concrete is a better option for both indoor and outdoor use.
Final Verdict
Concrete floors are great for both homes and businesses because they are both strong and nice to look at. If you can't decide between polished concrete floors and stained concrete floors, think about what you want from your flooring. This will help you make a better choice.
Some people want a floor that can be changed a lot, can be used inside or outside and is cheaper in the short term. In that case, stained concrete is a good choice.
Choose a polished concrete floor if you want a floor with a highly polished finish that looks great in both businesses and homes and needs less maintenance over time.
No matter what kind of floor you choose, you can be sure that it will be strong and last for a long time. Get in touch with Concrete Your Way right away if you want to polish or stain your concrete at your home or business.