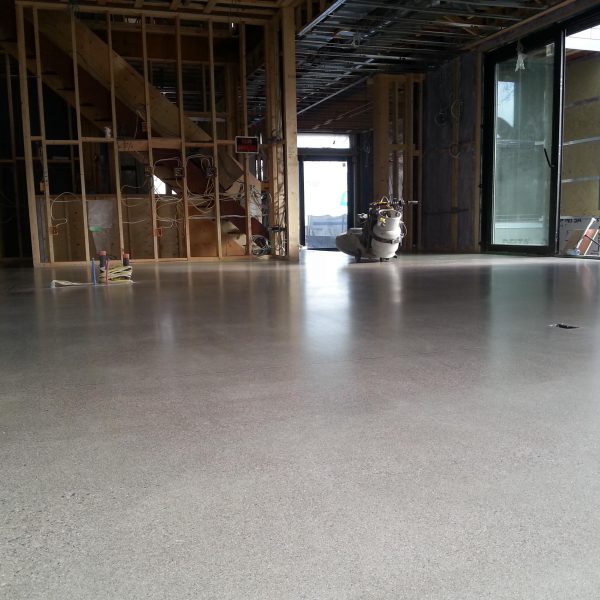 Is Polished Concrete Worth It?
As a home or business owner, you may be wondering if polished concrete is worth the investment. Polished concrete is a flooring option that has become increasingly popular in recent years due to its durability and affordability. Let's take a look at the benefits of polished concrete and see if they outweigh the cost.
What is a Polished Concrete?
Polished concrete is a flooring surface that has been treated with a polishing compound to create a high-gloss finish. The flooring can be made of various materials, including concrete, terrazzo, and natural stone.
The term "polished concrete" can be used to describe two different things: the process of polishing a floor, or the end result of the process. When referring to the process, polished concrete typically means using diamond abrasives to grind down the surface of the material until it's smooth and shiny.
Benefits of Polished Concrete
The polished concrete process is a modernized way of creating a surface finish for various interior plans. There are a lot of benefits to polished concrete flooring. Some of which include:
Perfect For Industrial And Business Sites
Polished concrete is a great option for industrial and business sites because it is durable and looks great. One of the best things about polished concrete is that it is also easy to clean. Spills and dirt can be quickly wiped up with a damp cloth, and the polished surface will look good. This makes polished concrete ideal for busy businesses or industrial sites where dirt and spills are common.
Polished concrete is easy to maintain because it doesn't require waxing or sealing like traditional hardwood floors. In fact, the only regular care that polished concrete needs are a damp mop or steam cleaner every few weeks to remove any dirt or dust that may build up. You can also use a neutral pH cleaner (or even just water) if needed. However, you should avoid using any cleaners that are acidic, as they can etch the surface of the concrete.
Polished concrete is a cost-effective flooring solution because it does not require the use of expensive and hard-to-find materials. Additionally, there is little to no waste associated with the installation and finishing polished concrete floors, which further reduces costs. Finally, polished concrete floors are highly durable and last for many years with minimal maintenance.
Also Read: How to Clean Polished Concrete Floors
Non-slip floor finish of polished concrete has a variety of benefits. First and foremost, it provides safe walking conditions for both pedestrians and workers. It also increases the lifespan of the floor by protecting it from wear and tear. Additionally, a non-slip finish creates a cleaner appearance by hiding any blemishes or irregularities on the surface of the concrete.
Polished concrete is a great retainer of heat, and it's becoming an increasingly popular flooring option because of it. The flooring retains heat very well, which can be beneficial in colder climates where you want to keep your home or office warm. It also helps to keep the building cooler in hotter climates by retaining the cool air inside.
Polished concrete is a highly sanitary flooring option because it is non-porous and easy to clean. It is also resistant to mold, mildew, and bacteria, making it an ideal choice for high-traffic areas or areas where food is prepared. Furthermore, polished concrete is low maintenance and does not require harsh chemicals or sealants to keep it looking clean and new.
Polished concrete is thermal shock-resistant, meaning it can withstand sudden changes in temperature without being damaged. This is due to the fact that concrete is a non-combustible material, meaning it won't catch fire and it won't contribute to the spread of fire. In addition, polished concrete has a high heat capacity, which means it can absorb large amounts of heat without cracking or breaking.
Polished concrete is a very energy-efficient flooring option because it reflects heat and light, which reduces the amount of energy needed to cool or light a space. Additionally, it is a durable and low-maintenance surface that doesn't require any special treatments or coatings, further reducing energy usage.
Complimentary House Design
Polished concrete is a versatile flooring option that can be tailored to suit many design aesthetics. There are many colors and finish options available, so you can create a look that's perfect for your space.
Also Read: Difference Between Polished Concrete and Stained Concrete
How Much Does A Polished Concrete Cost?
The cost of polished concrete depends on various factors like the area to be polished, the current condition or quality of the floor ground, the size of the whole house or establishment, and the type of floor finish you want to incorporate.
Now, before choosing the perfect and suitable concrete floor polishing finish, you have to make sure that the floor ground is ready for polishing or that there are no visible parts needed to renovate or repair. If you fail to inspect your floor quality before the polishing process, the chances of costly renovations later on will be much higher. To avoid this scenario, it would be great to leave the job to an expert flooring company like Concrete Your Way. 
Another great factor to consider when purchasing a polished concrete flooring design is the area or square meters of the entire floor ground. If your home has a wide space or floor area, you will need a bit of increase on your budget. This is also true for business establishments. But if you are into tiny houses and there's no wide floor space, then you can expect a budget-cost investment.
The type of polished finish will also affect the price. Polished concrete flooring can be done through a grind and seal surface finish or a mechanical polish finish. Either method design has a varying cost on the entire flooring and polishing process. 
In general, polished concrete flooring typically costs $3 to $12 per square foot, depending on the aforementioned factors. While it may sound like another costly investment for your home or business, you can't deny the benefits it can offer throughout its lifespan.
Polished concrete is a great flooring choice for both homes and businesses. It's durable, easy to maintain, and looks great. If you're considering polished concrete for your next flooring project, be sure to call Concrete Your Way. We'd be happy to help you choose the right color and finish for your space, and we can provide installation services that will ensure a flawless finished product. Give us a call today to get started!