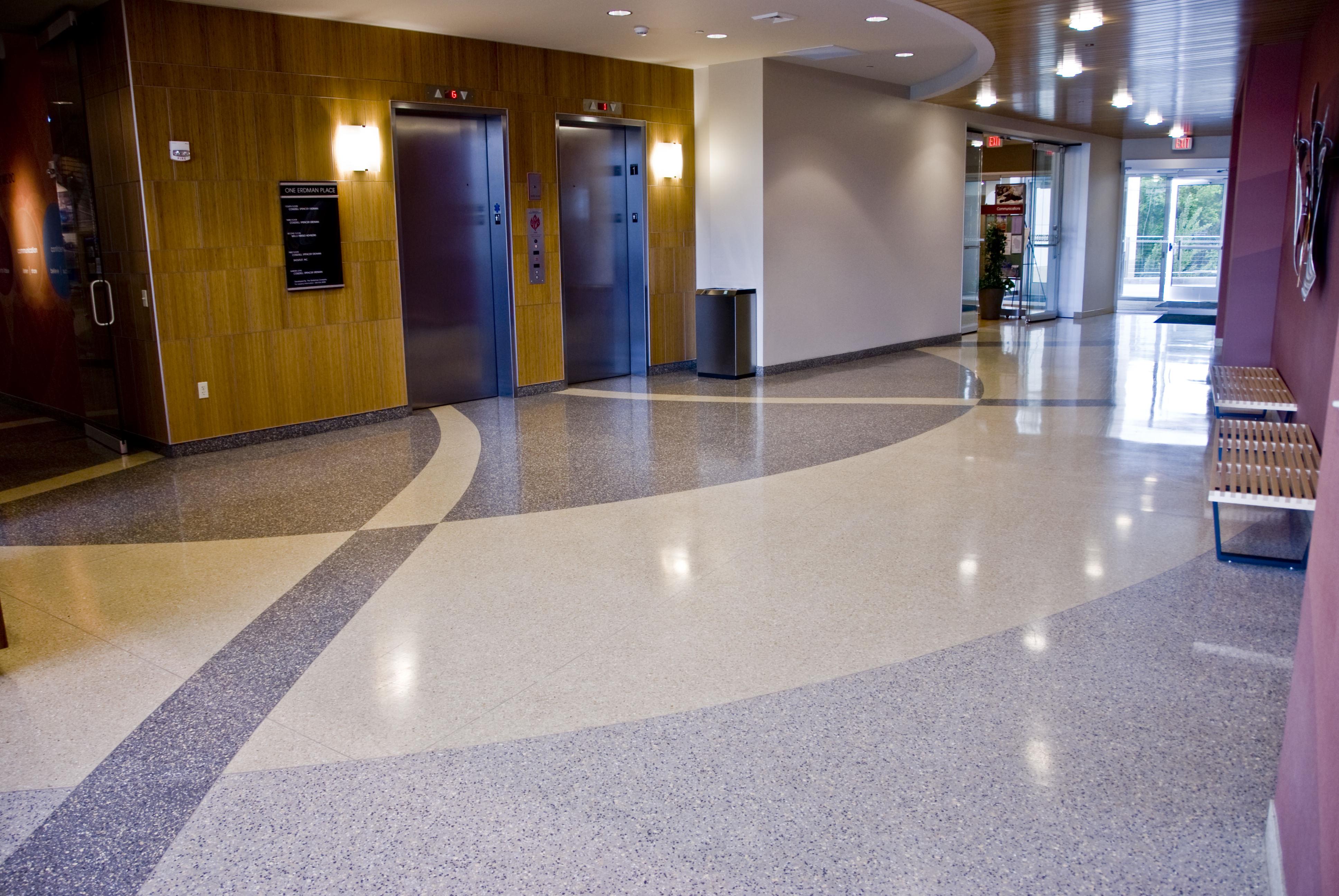 Terazzo Polishing – A Natural Extension to your Concrete Polishing Business
During the current challenging economic conditions, Smart contractors are always on the lookout for new ways enhance or expand their service offerings based on their knowledge, equipment and talent pool. This is even more important in turbulent market conditions where we need to keep crews working and sometimes require filler jobs that maybe less demanding or time intensive than our big "Grind and Polish" projects.
I was thinking about this very issue recently and found that providing polishing services for Terrazzo surfaces was a natural extension to my business and provided a new service market for my work. While not in the same family as concrete, Cementious Terrazzo can certainly be considered a close first cousin. Since most concrete polishing contractors already have all the necessary equipment for fine diverse concrete projects, adding a service for Terrazzo polishing and restoration makes a perfect add-on offering and can provide a lucrative new business.
About Terrazzo: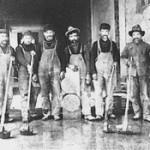 Terrazzo has been around for centuries. In its origins Terrazzo was simply marble chips mixed in with colored Portland Cement. The term "Terrazzo" actually is derived the Latin word "terra" which means earth, (I told you it has been around for a while). Typically the Romans used Terrazzo on their outside patios or "terraces".  The colored cement is called the "matrix", not quite as high-tech as the movies, but as infinitely diverse and interesting as a design element. The matrix is what really brings the beauty of Terrazzo to the forefront.
Let me take a moment here to explain how Terrazzo has traditionally been installed. First, it was poured out, then ground down flat and usually left at a 100-grit finish. At this point a topical Terrazzo sealer was applied, followed by multiple coats of floor wax or finish. This is a time-intensive process, as the floor requires constant buffing and re-waxing to maintain a high-luster shine.
This process has been modernized over time and today, we now have epoxy based Terrazzo,
A bit easier to apply perhaps, but the restoration process is mostly the same, except that densification is not required (and I certainly don't recommend it).
Since most Terrazzo has already been ground (sometimes as long as 100 years ago), contractors can generally start with 50 or 100 grit resins. In some instances where a floor is very wavy, you may have to start with a high metal diamond instead, but use caution if you drop to lower grit diamond!
It is important to keep in mind that unlike a concrete floor, a Terrazzo surface is generally only 3/8 to 1/2 inch thick. That means if you start to grind with a 50 metal, you could very easily reveal the underlying cement bed and with metal grits, you run the risk of exposing pinhole air pockets that will need to re-grouted with color-matched cement or epoxy maintain the original matrix. These concerns can be avoided if you start off with the resins and work your way in. However, be aware that some surfaces must be started with metals. Frequent floor stripping (using harsh and acidic chemicals) can really damage and "pit" the floor. This scenario surface will most certainly require an initial grind with a low grit metal. This is a pretty tricky craft and I would strongly urge that you consult with a Terrazzo restoration professional before you begin your grinding and restoration until you have sufficient experience to manage these nuances!
About Honing A Terrazzo Floor:
The basic honing of a standard Terrazzo floor is a relatively straightforward process and given the opportunities it can provide your business I think every concrete polisher should add this skill to the service repertoire.
I always advise colleagues new to Terrazzo work to start off stripping the floor with a good floor wax stripper and using a standard floor buffer with a black pad. Once that is complete we can start with 50 or 100 grit resins. The densification process should be employed at the 100/200 level for Lithium, (or as high as 400 for the Sodium Silicate products). The polishing steps are continued using 200, 400 and 800 grit diamonds. Note: I very rarely I go as high as an 1800 grit, but then I have had a great deal of experience running powders to "pop" the shine.
I highly recommend that you do all your grinding wet if possible. Remember this is not just concrete, Terrazzo is concrete mixed with marble chips and marble polishing is always done wet. Once you obtain the 800 girt finish, you should have a nice reflective shine, though not a high shine. This is the point where the marble world takes over.
Getting the High Shine: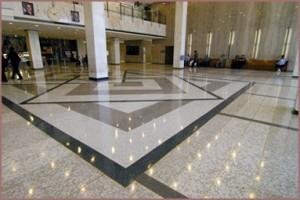 My tool of choice at this stage of the process is a trusty 175-rpm floor buffer with a natural fiber floor pad underneath and I always have 135-150 lbs of weight total. I then sprinkle a marble polishing compound on the floor. I prefer to use the traditional Italian polishing compound called 5X, which is also polished wet. I simply make a few passes over the floor with this slurry and pick up the excess with a wet vac. It is worth pointing out that his area will probably need to be mopped with an alkaline cleaning solution to neutralize the acidic nature of the 5X, but what you will have now is a floor closer to an 1800 or 3000 grit shine. The 5X not only has abrasive qualities to smooth out the floor, but the acidic nature will also chemically polish the marble chips to an incredible shine. As an additional benefit, this method will also "pop" an unbelievable shine on an exposed aggregate concrete floor!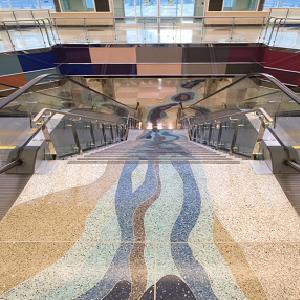 Depending on the project requirement and my bid, I sometimes employ an alternative method to get my "Gloss" on.  I can polish the floor to 800 or 1800 then add a protective coat to the floor that will enhance the shine. My preferred process is to apply about 3 coats of Convergent's PentraGuard or Prosoco's LS Guard. I apply like a floor wax with a microfiber then burnish (2000rpms or more) with 1500 Twister Pad or a very stiff Gorilla floor pad. We have conducted tests on both Cementious and Epoxy Terrazzo in extremely high-traffic environments and the results were outstanding. The Facility Manager stated our test area maintained the shine, but also did not scuff up like the waxed areas.
For the Epoxy
Terrazzo floors
, you should skip the powder polish as the acid can discolor the matrix. Epoxy Terrazzo also has a tendency to develop "alligator eyes", where the chips polish out different than the matrix. In this case, you would need to polish at a higher grit and apply a protective coat to the floor.
As a caution, I would advise that for any Terrazzo job it is wise do a test sample to see how things react. There is always a chance the finish coats can discolor the matrix, so be sure to test to see how things will interact.
Additionally, there are several methods available and you are pretty much free to make your own choice. There are some stone restoration Companies that use a chemical vitrification liquid in this process that is sprayed on the floor and either buffed with a steel wool pad or a high-speed burnisher. Which is also known as crystallization. However, this method has plenty of its critic's and I am one of them. My main objection is what crystallization does to marble floors and the fact that vitrification requires an ongoing maintenance program for a high-traffic environment, but that is probably a good topic for next article. Besides the ultimate requirement for be restoration, vitrification has to be removed by diamond honing, normally a 200 grit resin.
About Terrazzo Repair:
Once you are working with Terrazzo surfaces, you will probably be asked to bid on repair jobs as well as polishing. In my opinion, this is an art, but one that can be mastered by those who put in the work.
A typical case would be a floor that has been carpeted over and where the tack strips have left gaping holes in the surface. These areas are spelled and need to be squared off so the patch will hold. I prefer to use a stone core drill bit on a 10,000rpm angle grinder, (though for smaller holes you can use a masonry drill, a Dremel with a diamond tip, a pencil grinder with stones attached, or even just a cold chisel and hammer). The point is you need to do square off the edges so there is a vertical lip to hold your patch.
Now comes the fun part. Since ordinarily the matrix has been colored, you will need to color match some
epoxy
to the same shade as the floor and add the same chips to match the floor design. Here is the secret! If this is a big enough job, you can take samples of the chips and send them to a Terrazzo supply shop and they will color match the epoxy for you. Then all you have to do is fill in the holes. That part is sweet, but it does take some practice to perfect. You then fill the holes with chips, pour the flowing epoxy over the top and let it dry overnight before you grind it smooth.
The patching can be done with color-matched cement as well, but these patches sometimes do not hold as well and the cement takes several days to cure out. Be sure you grind the patches smooth with a 10,000rpm grinder and a very fine grit cup wheel. An aggressive cup wheel will eat deep grooves in the floors that will leave valleys to the eye when polished out. Try to leave about 1/8th inch top with the cup wheel then finish smoothing it out with a 50-grit resin.
I have included some examples of patchwork I have done. By matching the same chips and the color of the matrix, I am able to effectively blend in the hole. As with any patch you can still see them, but they do not jump out from across the room.
I know this sounds simple, but believe me it takes a to master the repair process so talk with experienced colleagues and get some trails under your belt before you take this process on.
What is the benefit of Polished Terrazzo?
As I mentioned earlier, there is a lot of great Terrazzo work available if you are able to address it.
It surprises me how little people understand about the surface and I often find when talking with designers, architects and even contractors that many of these fellow professionals do not really understand that Cementious Terrazzo can readily be densified and polished to a fine finish much the same as concrete. Furthermore, if we densify and polish Terrazzo, (as with concrete) we eliminate the need for tedious and expensive maintenance. We no longer need to strip and rewax the floor every year.
My associates are delighted to learn that by eliminating the use of floor strippers, (most of which contain some form of butyl chemical foundation in them), and the use of floor finishes (most of which contain varying amounts of zinc in them) we are providing a long-lasting and eco-friendly solution for a finish that will certainly help meet and provide LEED credit considerations. With the "Green " emphasis of today's market, I truly believe that Terrazzo polishing will be an important service market in the very near future.
There are millions of feet of Terrazzo out there, and most of it is Cementious. So fire up your polisher and go make some money!
About Authour
John Jackson: John Jackson,  Graduate of Northwest Mo. State University with Accounting degree
Started his cleaning and restoration business in 1998 and is owner of Integrity Stone Restoration , His particular emphasis is on Historical  Restoration projects. I am a member of the American Institute of Architects as an affiliate member, and sit on the Historic Preservation Committee of the AIA.