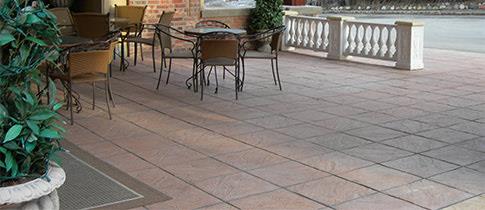 Commercial Stamped Concrete Costs
There are many different approaches you can take when it comes to stamped concrete for your commercial or industrial business property. Costs like usual vary depending on many different factors such as size, design, style, etc. You can say on average it costs about $8 to $18 + per square foot to get a basic design done for your area – but again it is hard to estimate without actually seeing the area and knowing exactly what you want.
All of the time stamped concrete is more economic to spend on than going after bricklaying or installing individual stone pieces for your property. It is cheaper this way because simple pouring concrete on the whole area and then making a pattern is a lot easier on labour than working on each part individually.
Another great solution is to check out some of our portfolio to see the different designs we are able to make. You can either pour the concrete and leave it plain (the cheapest way), or pour it and pour a border across individually, or have a completely unique design with many different pouring styles (even adding adding heating under it for those stormy winter days).