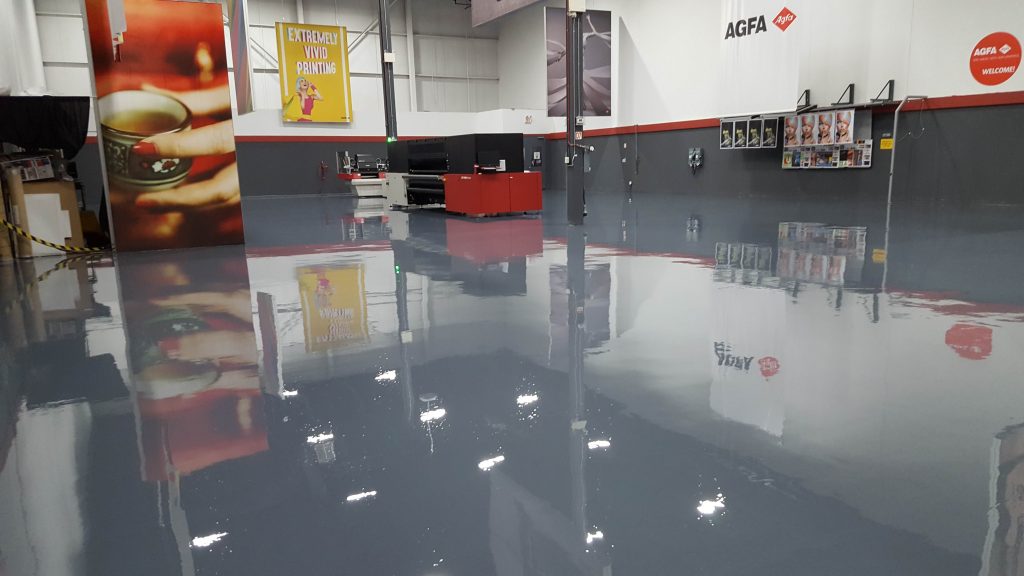 Benefits Of Epoxy Coatings For Concrete Floors
Commercial building owners understand the significance of properly polished and coated concrete flooring in high traffic zones. Large warehouses, office buildings, and garages can especially benefit from a specially applied epoxy resin coating on their concrete floors. Epoxy resins were first industrialized in the 1930s and have since then become widely available for homeowners and business owners alike.
The coating is created through a special process involving the thermosetting of epoxide polymer with another substance that acts as a hardening agent. This process produces a virtually impenetrable layer of protection against water damage, chemical spills, or even stains usually a floor is subjected to in an industrial setting.
Also Read: Pros and Cons of Epoxy Floors In Your Home
How Your Company Can Benefit From Epoxy Coatings For Concrete
Epoxy Is Chemical-Resistant
Epoxy coatings are ideal in high-traffic areas such as industrial plants, garages, manufacturing facilities, hospitals or even laboratories. They provide an extra layer of protection against chemical spills caused by any and all harmful substances that would otherwise erode your concrete flooring. Unlike other flooring options where spills need quick wiping, epoxy coatings for concrete protect the material underneath even if spills are wiped much later.
Provides A Smooth And Elegant Finish
Though epoxy coated concrete may seem completely industrialized, there are many design variations and options to create a modern elegant finish in any space. Due to its , epoxy coatings provide a completely smooth and glossy finish that looks sleek and clean.
Rejuvenate Old Concrete
Concrete flooring can get expensive to repair and replace, but an epoxy coating offers not only a budget-friendly solution, but a realistic one. This coating is carefully applied by professionals over your existing flooring, therefore, you can easily breathe new life into tired and worn old floors. Most importantly, you only need to pay for surface preparation, labor, and materials when opting for this method.
Easy To Sanitize And Maintain
With buildings that receive a great deal of foot traffic, it is important to consider flooring options that are easy to sanitize and maintain. Epoxy-coated concrete floors are widely used in medical offices and hospitals as they do not trap dirt or bacteria. Their smooth surface makes them easy to clean while their chemical-resistant nature allows for the use of bleach or heavy cleaning agents. This is especially important to consider as the pandemic is still infecting thousands worldwide!
Highly Durable And Long-Lasting
Surprisingly enough, concrete on its own isn't sturdy or resistant enough to wear and tear. It's the specialty applied epoxy coating that offers concrete floors next-level durability. We always advise our clients to consider epoxy coatings a great investment because they enhance flooring durability and will protect the concrete against cracks, chips or breakage.
Enhances Working Conditions
Many business owners want a flooring solution that offers sleek innovation and adds light to an otherwise drab and forgotten space. You can enhance visibility in an industrial setting by choosing epoxy coatings for concrete as they create a mirrored glassy smooth finish that helps reflect light. By opting for lighter colored coatings, you can make a space feel much more inviting and less industrial while improving workplace conditions for employees.
Eliminates Trademarks In A Garage Setting
Garage settings are especially hard to install floors for as hot tire marks often lead to delamination in poor quality flooring options. As many mechanics opt for painted flooring versus reliable epoxy coated concrete, tire tread marks leave permanent marks behind that are impossible to remove. Most professional companies that offer coating services will also provide a warranty with their product, making it an ideal investment for any garage setting.
How To Select A Company You Can Trust
At Concrete Your Way, we offer comprehensive solutions for business owners when it comes to installing epoxy floors and polishing concrete. We work directly with experienced contractors, architects, and designers to create a service that simply works for you!
If you would like a project estimate, we offer a free no-obligation quote that can help you budget for your building. We can work with any and all environments such as hospital and pharmaceutical settings, research and laboratory facilities, equipment manufacturing, industrial warehouses, and restaurants to name a few. If you're ready to protect your concrete floors, reach out to us at 416-626-3332!